Elastic Band
---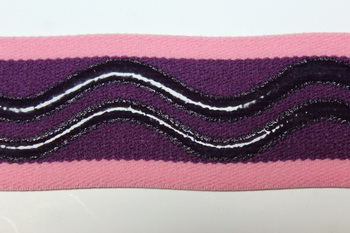 Product Name : Silicone Anti-slip elastic band
Description
Silicone Elastic Tape is a remarkable feat of chemical engineering that has resulted in a long lasting and highly durable protective tape. Made from cured silicone rubber, silicone tape typically contains a thin layer of silicone gel to make the product self fusing, which forms a permanent bond around whatever it is applied.
Silicone patterns coated on elastic tape,it is applicable to fitness sport wear...and more.It is difficult to drop but should be avoid penetrating or strongly scrape.
Fu Jyi Lin is Silicone Elastic Tape manufacturer and Elastic Band Supplier specializing in Textile Materials. Fu Jyi Lin Elastic Tape manufacturer provide you quality Silicone Elastic Tape, Silicone Elastic Tape color are available and Silicone Elastic Tape size are available.

Customers are very welcomed to research & develop products with us and we also accept custom Silicone Elastic Tape order requested such as width, color, design, quality to produce any products.
| | | |
| --- | --- | --- |
| Features | | |
| 1 - Silicone Elastic | 2 - Silicone Elastic | 3 - Silicone Elastic Webbing |
| 4 - Silicone Elastic Webbing | 5 - Silicone Elastic Band | 6 - Silicone Elastic Band |

Specification
Anti-slip elastic band material:
#Polyester
Rubber: #32#37#42 and Spandex
Anti-slip material: silicone

The size and thickness of the Anti-slip elastic band:
#Width: 10mm, 12mm, 15mm, 20mm, 22mm, 25mm, 30mm, 33mm, 35mm, 38mm, 40mm and 50mm...see more
**the size is customized according to customer needs and design. **

Anti-slip elastic band elastic band knitting pattern:
#Plain#Twill,

The background color of Anti-slip band: (after dyeing)
#Black#White#Red#Orange#Blue#brown#Green#Purple...etc.
"Other colors must provide Pantone color number matching, dyeing and Pantone color will have a slight color difference, the minimum dyeing amount is 3000 yards."

Anti-slip elastic band printing types:
#Wet-Printing

Anti-slip elastic band packaging method:
# Rolls, 50 meters/roll and 100 meters/roll
#Big bag, 5-10 rolls/opp plastic bag
"If there are special packaging or small packaging requirements, a quotation will be provided separately"

Anti-slip elastic band of the most ordered quantity:
#1000m/color/size
"If the order is less than MOQ, a separate quotation will be provided.."

If you have any questions about the "Anti-slip elastic band" products or have other questions about our products
Please call (02) 2301.5900 or #Email: info@fujyilin.com.tw

useage:
Anti-slip elastic band on pants, non-slip elastic band on underwear, or on other products... etc.