Elastic Band
---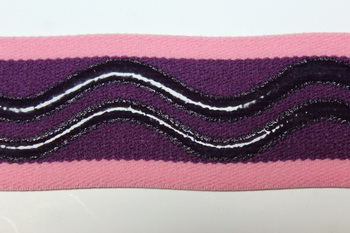 Product Name : Silicone Elastic
Description
Silicone Elastic Tape is a remarkable feat of chemical engineering that has resulted in a long lasting and highly durable protective tape. Made from cured silicone rubber, silicone tape typically contains a thin layer of silicone gel to make the product self fusing, which forms a permanent bond around whatever it is applied.
Silicone patterns coated on elastic tape,it is applicable to fitness sport wear...and more.It is difficult to drop but should be avoid penetrating or strongly scrape.
Fu Jyi Lin is Silicone Elastic Tape manufacturer and Elastic Band Supplier specializing in Textile Materials. Fu Jyi Lin Elastic Tape manufacturer provide you quality Silicone Elastic Tape, Silicone Elastic Tape color are available and Silicone Elastic Tape size are available.

Customers are very welcomed to research & develop products with us and we also accept custom Silicone Elastic Tape order requested such as width, color, design, quality to produce any products.
| | | |
| --- | --- | --- |
| Features | | |
| 1 - Silicone Elastic | 2 - Silicone Elastic | 3 - Silicone Elastic Webbing |
| 4 - Silicone Elastic Webbing | 5 - Silicone Elastic Band | 6 - Silicone Elastic Band |