Custom Paper Cups/Paper Bowl
---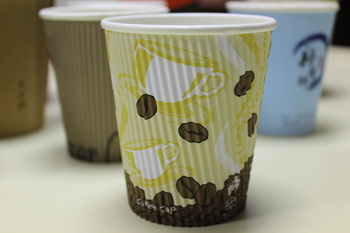 Product Name : Ripple Paper Cup
Description
Ripple Paper Cup No need to use corrugated cup sets, improve efficiency when serving customers
Cup sets using popular is no features
Ripple Paper Cup is texture, heat better than traditional paper cups
Horizontal design effectively prevent slipping accidentally drinking
Fu Jyi Lin is Ripple Paper Cup manufactures and Paper Cup Supplier specializing in Cups Products.Fu Jyi Lin Ripple Paper Cup Manufacturer provide you quality Ripple Paper Cup.

Welcome customers to research and development of new products, such as width, color, design, production and quality requirements of any product. Ripple Paper Cup can customized according to customer demand production, For further information, please contact us.
| | | |
| --- | --- | --- |
| Features | | |
| 1 - Ripple Paper Cup | 2 - Ripple Paper Cup | 3 - Ripple Paper Cup |
| 4 - Ripple Paper Cup | 5 - Ripple Paper Cup | 6 - Ripple Paper Cup |
| 7 - Ripple Paper Cup | 8 - Ripple Paper Cup | 9 - Ripple Paper Cup |
| 10 - Ripple Paper Cup | 11 - Ripple Paper Cup | 12 - Ripple Paper Cup |

Specification
4oz Ripple Paper Cup
7oz Ripple Paper Cup
9oz Ripple Paper Cup
10oz Ripple Paper Cup
11oz Ripple Paper Cup
12oz Ripple Paper Cup
16oz Ripple Paper Cup


Asks Description
Type Graphics
Material
Size
Color
Print
Use
Quantity