Giftware Accessories
---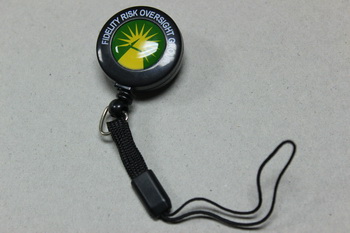 Product Name : Badge Reel
Description
Fu Jyi Lin is a Badge Holder, Badge Reels manufacturer and Giftware Accessories supplier specializing in Textile Products.Badge Holder manufacturer provide you quality Badge Holder, Badge Holder color are available and Badge Reels size are available.
Badge holder & badge reel is a housing or case that contains a retractable cord. This cord connects to a badge holder. In its most basic form, a badge reel is square or round shape. It typically measures 1.25" in diameter and has a belt clip on the back for attaching the badge reel to clothing.There are different types of clips used as the clothing attachment on the badge reel. Spring clips, belt clips, and closed-end pins are variations of clips used to hook the retractable badge reel to your clothing. Badge Holder is typically 27-36 inches long and is attached to a spring mechanism within the casing which allows the cord to retract when pulled.

Customers are very welcomed to research & develop products with us and we also accept custom Badge Holder & Badge Reel order requested such as width, color, design, quality to produce any products.
| | | |
| --- | --- | --- |
| Features | | |
| Badge Reel | Badge Reel | Badge Reel |
| Badge Reel | Badge Reel | Badge Reel |