Shopping Bag
---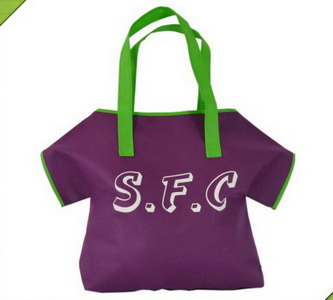 Product Name : Non Woven Bag
Description
Fu Jyi Lin is shopping bag manufacturer and Non Woven Bag supplier.Non woven bag is one of the most popular reusable shopping bag around the world. So called non woven shopping bag, non woven tote, non woven grocery bag, non woven carrier bag, non woven foldable bag, pp non woven bag, non woven reusable bag, promotional non woven bag, non woven drawstring bag, non woven backpack, and so on. It's cheap, practical and ideal to promote your brand. Various choices for different shape, color and style.

Customers are very welcomed to research & develop products with us and we also accept custom Non-Woven Shopping Bag order requested such as width, color, design, quality to produce any products.

Web Search
#non woven bag factory
#non woven bag supplier
#non woven bag printing
#non woven bag template
#non woven bags manufacturer
#non woven bags
#pp non woven bag
#non-woven fabric
#non woven fabrics list
#non woven material
Features


2 - NonWoven Shopping Bag


3 - NonWoven Shopping Bag


4 - NonWoven Shopping Bag


5 - NonWoven Shopping Bag


6 - Eco Friendly NonWoven Shopping Bag


7 - Eco Friendly NonWoven Shopping Bag


8 - Eco Friendly NonWoven Shopping Bag


9 - Recycled Nonwoven Shopping Bag


10 - Recycled Nonwoven Shopping Bag


111 - Recycled Nonwoven Shopping Bag


12 - Custom Non Woven Shopping Bag


13 - Custom Non Woven Shopping Bag


14 - Custom Non Woven Shopping Bag


15 - Reusable Non Woven Shopping Bag


16 - Non Woven First Aid Bag


17 - 90g Non Woven Bag


18 - 90g Printed Non Woven Bag


19 - 90G Printed Non Woven Bag


20 - Custom Printed Non Woven Bag


21 - 90gsm PP Non Woven Bag


Specification
Non woven bag size:
Handle sewed down to bottom, to make it to be a durable non woven bag.
With bottom board, such as cardboard, plastic board
With Accessory: with velcro, with button, with zipper.

Non woven bag printing:
we have professional people for bag design
Silk screen printing. Heat transfer printing. Full surface printing. Sublimation printing

MOQ for non woven bag:
It depends. We have to consider the fabric weight, color, printing method. So detail inquiry is necessary.












Asks Description
Type Graphics
  Material
  Size
  Color
  Print
  Uses
  Quantity


Other

Non woven bag supplier & manufacturer
#Non Woven Bags #non woven bags alibaba #non woven bags biodegradable #non woven bags business #non woven bags buyers europe #non woven bags buyers #non woven bags cloth #non woven bags china #non woven bags cost #non woven bags canada #non woven bags company #non woven bags china wholesale #non woven bags for rice packaging #non woven bags factory #non woven bags fabric supplier #non woven garment bags wholesale #non woven bags handmade\ #non woven handle bags #non woven bags importers #non woven bags logo #non woven laundry bags #non woven laminated tote bags #laminated non woven bags manufacturer #large non woven bags #non woven bags manufacturer #non woven bags price #non woven bags quality #high quality non woven bags #non woven zipper bags